Don't you want to know what people are saying about your brand or product online?
If you want to take your business to newer heights, you need to plan and monitor your social media. How to do that? This is a million-dollar question. To help you in the same, we have written a blog that lets you know the importance of social media monitoring and the tools that enable you to achieve it.

What is social media monitoring?



No, not spying, it would have a negative connotation; social media monitoring is all about finding out what people are saying about your products or services on social media platforms. For the success of your business, it has a pivotal role to play. Seeing what people are posting on social platforms, websites, blogs, review sites etc. to share their viewpoints about your business.
To take social media marketing to the next level, it is important to monitor what people say on the internet.
In simple terms, social media monitoring enables you to explore the views of people about you on the internet so that you can strategize your company's digital marketing goals accordingly. But, how to do that? You must be thinking about it. Don't worry because, in the market, we have cutting-edge tools that collect data and analyze it so that you can respond to comments and feedback accordingly.

How does Social Media Monitoring grow your business?
Don't you want to know what role social media has in improving your business? Those who want to multiply their business want to know its crucial insights. According to the reviews of customers, they plan their marketing strategies and implement them. Through Social Media Monitoring, you can keep a track of all the positive and negative reviews and also what your competitors are doing.
Improves your customer service: When you purchase any product, you want to experience exemplary customer service. In today's era, people go online to know everything, be it your product's quality or your customer service. Because of social media, clients find it easier to communicate with brands and businesses either through tagging them on social media posts, interacting with representatives through online chats, leaving online reviews and sending direct messages through Facebook or Instagram.
According to the report of Daniel Fenn, an SMM specialist at Top Assignment Service and Paper Fellows, " Make sure that you never miss messages from your clients and try to respond to them promptly. If you're unable to track the different ways in which customers are communicating with you, you're missing out on something important and losing the clients' trust and confidence.






Helps you understand what they're saying about your business



Social media monitoring helps you to find what customers are saying about your business online. It happens when they don't always put their true experience on online reviews, but they more easily put their opinions and comments on social media platforms. Through social media monitoring, you can easily find out your strengths and areas of improvement.
Social media is a great way to know why the customers are dissatisfied with your products or services. By monitoring, you will come closer to your customers on social media, and through their feedback try to improve your business. You'll then think about better ideas to improve and find out the ways to keep abreast of the competitors.
Negative feedback helps you address the issues of your customers. You can reply or suggest the solutions to their problems.
Engages brand influencers:

Influencers carry a lot of worth in an industry because they have a multitude of followers and when they recommend something people trust them. Your business requires the support of influencers for the expansion of your audience. How can it happen? When they post or tweet about your products or services, their followers will listen to them and get confidence in your business.

Provides you the chance to address issues early:

Social media monitoring is an excellent process to identify what people say about your business and it is also a great tool to manage negative reviews.
The negative press will circulate negative things about your brand and damage its reputation if you don't keep track of it. Hence, it is essential to have a social media monitoring team or software to find out negative mentions about you.

Keeps you ahead of the competition

Social media monitoring helps you to keep abreast of your competitors. It helps you to know what your competitors are doing and how they are responding to customers' comments and queries.
Where your competitors are lagging behind, how can you make the best of this? You can easily make your brand stand out and carve a niche.

TOP 6 SOCIAL MEDIA MONITORING TOOLS

Let's find out what and how social media monitoring tools create an influence of your brand on media portals and can track top social media trends. Social media monitoring tools help you in social listening and gathering relevant content across various platforms. These tools help you to determine what your competitors are saying, identify trends and what your dearest customers think of you.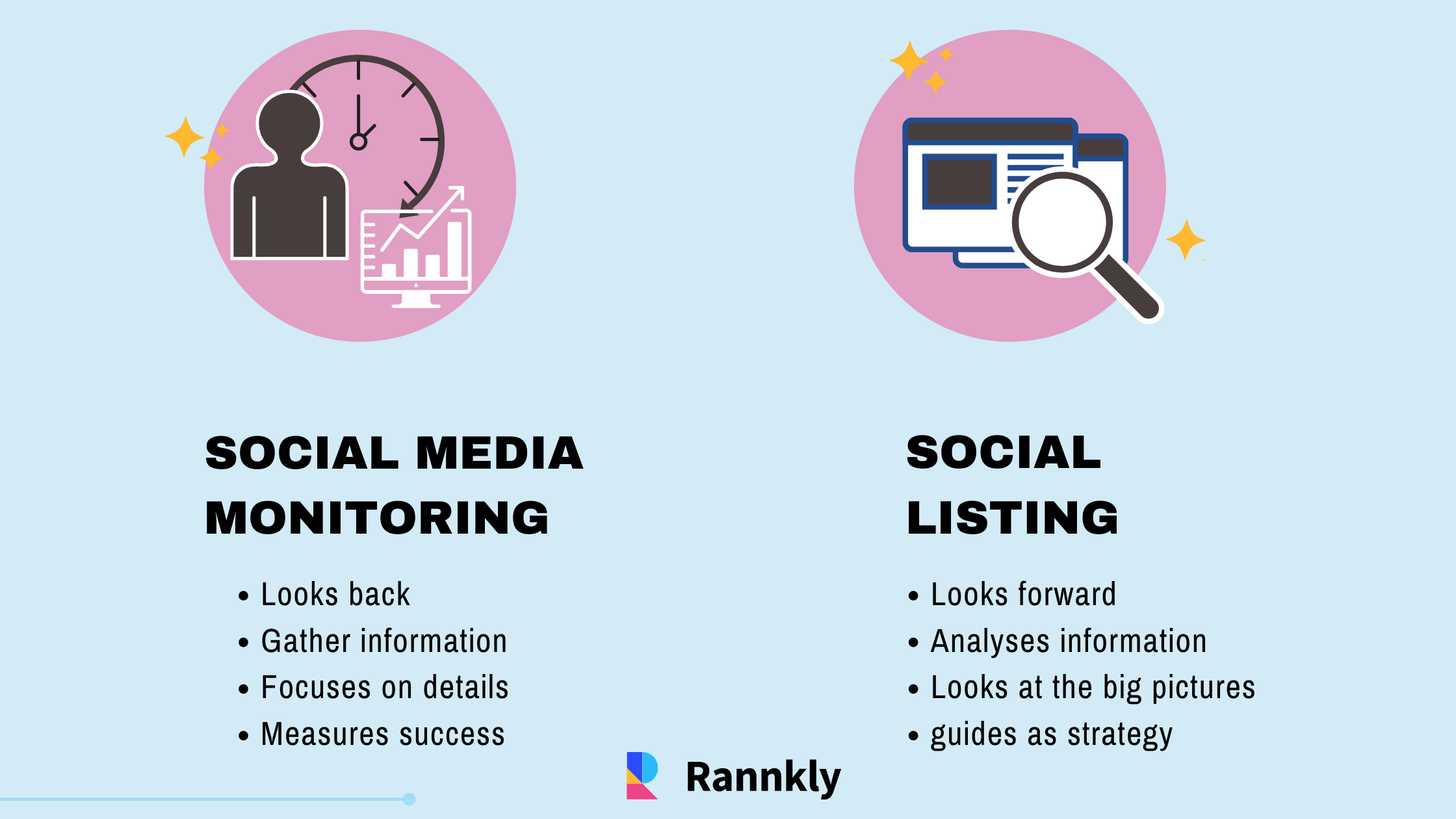 These tools help you understand what your customers demand and respond to positive and negative feedback timely. If you're using social media monitoring tools, it shows you are putting additional efforts to keep your customers first. When you decide to choose a tool, it is prudent that you will look at all its features and understand its role.
Does your tool have the ability to pay heed to specific mentions on all platforms? Can it reflect the customer's sentiment? Can it retrieve information in a manner that suits you?
Find out the leading social media monitoring trending tools below to help you enhance your presence on the internet.
1. Hootsuite: It is a widely acclaimed social media management tool that is purposely designed to implement multiple social media strategies on various social media platforms. What features make Hootsuite user-friendly? Its social media monitoring features include social engagement measurement, sentiment scoring, social listening, influencer identification, and social reporting.
You can publish any kind of social media post in advance through an automated scheduling function. Using this feature, you may publish the posts on a specific date set by you.
2. Sprout Social: It encourages its customers to boost social media strategy. Through Sprout Social, you connect with audiences, manage publishing workflows, and convert social data into meaningful insights. It has features like social engagement measurement, influencer identification, and social reporting.




The Smart Inbox is such a commendable feature that it enables you to see what's happening on all of your social media platforms at the same time and you can easily respond to customer messages.
3. Zoho Social: It is a consolidated social media management tool designed for businesses and agencies to schedule posts, handle mentions, create custom dashboards, etc. The features of social media monitoring include social engagement measurement, influencer identification, and social reporting.




4. Rannkly: It is a Social Media and Online Reputation Management Tool that helps you to shape, redefine and improve your brand's reputation through appealing features. It connects various review websites to one dashboard through which you can easily monitor, reply & analyse your customers' reviews. It generates new reviews and engages potential customers to take your business to the next level.


If you're looking for a cost-effective social media monitoring tool, Rannkly can be the best fit for you. It can cater to all your social media requirements swiftly.
5. Falcon.io: It is a social media monitoring, engagement, publishing, analytics, and managing customer data, which explores the entire spectrum of digital marketing and advertising by managing various customer touchpoints on one platform. It gives you personalized brand experiences on the basis of enriched customer profiles.




6. Mention: For enhancing brand awareness, Mention encourages brands and agencies to boost media monitoring. This tool helps you to track your competitors and allows customers to compare and analyze online conversations and create content on social and web insights.
It is simple to add keywords and phrases which you don't wish to include in an alert. Moreover, the interface of the software is clean and readable as you can quickly scan and view all the latest mentions.
7. Listen up: For a social media marketer, it is essential to use the advanced social media monitoring tool. Using Listen up, you can track the sentiment of your brand and how much people are talking about it online.
This tool offers myriad advantages to you. Not only you take notice of positive things said about your product or service but also you can track all the negative comments before they will spread like a fire on the internet.
Whatever tool you use completely depends on your choice because each tool is designed to cover the basics of social media monitoring, which you're looking for. If you're looking for a tool that can be economical and also helps you to build a fascinating image of your brand, Rannkly can be a great tool. Write to us at sales@rannkly.com if you have any more questions about social media monitoring tools.